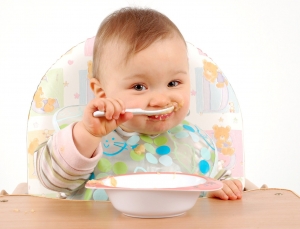 Baby Weaning Seminar
A training day for parents and health practitioners
"Infancy is a critical window of time, for if the neurons are not properly formed and connections properly made, the effects can haunt a child for his or her lifetime. When the foundation of the brain's architecture is properly in place, it can set the stage for a future filled with potential. During the first year of life the brain still demands an astonishing sixty percent of the total energy taken in by the infant"

Michael A. Schmidt – Brain-Building Nutrition
Training outcomes met by the seminar are as follows:
Guidance on the introduction of appropriate foods, portion sizes and feeding routines dependent on baby's age; along with suggestions as to presenting this information in a user friendly way to parents.
Strategies for running weaning groups underpinned with sound nutrition knowledge with regard to baby's development – in particular brain development, and consideration of the numerous learning disorders now suffered.
Ways of presenting a variety of foods to widen dietary experience and support whole family health using simple teaching methods and equipment
Demonstrations of appropriate food preparation for different weaning methods using varied food groups suitable for young infants.
Awareness of food intolerances and allergies and advice on nourishing unprocessed alternatives
Anti nutrients in diet and their impact on health from a young age, e.g. preventing obesity, diabetes, heart disease.
A brief look at nutrition in pregnancy – its effects on mother and developing baby.
A review of World Health Organisation and U.K. Department of Health guidelines with regard to breastfeeding, bottle feeding, weaning and up-to-date statistics and the key nutrition information for encouraging continued breast feeding.
Detailed understanding of why it is nutritionally best for baby to wait until six months before weaning commences; and practical ways of empowering parents with relevant knowledge at an earlier stage.
Every Child Matters – helping meet the health objectives set out by this.
Teaching strategies for working with hard-to-reach families
We provide baby weaning seminars in house throughout the UK in addition to open courses at various locations during the year. If you are a health professional working in the UK with parents and young infants and have an interest in discussing the Baby Weaning seminar please contact us.

Please call or email, or you can fill in the form below.