Put your Feet up, Put your Brain down, Relax with Reflexology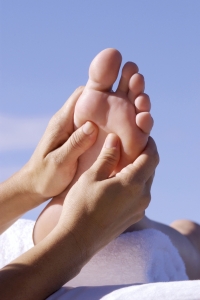 A deeply relaxing, ancient therapy
A 2007 study noted that Reflexology reduced 'state' anxiety and cardiovascular activity consistent with stress reduction
A 2009 study with MS patients showed that Reflexology lowered stress cortisol levels and supported muscle relaxation
A 2011 study showed that Reflexology significantly improved quality of sleep
A 2013 study suggested Reflexology may be useful in the treatment of pain conditions
A 2012 pilot study has shown that Reflexology lymph drainage techniques reduce swelling caused by secondary lymphoedema
Suzy Sherratt has been in practice at the same premises for the last 25 years, in Ackworth, near Pontefract.
Look After You use Organic Shea Butter on the feet during the Reflexology session, this is a very pure, natural product but if you are hyper-allergenic and need to patch test this product before a session please let us know.
Treatments are personalised to the individual and the condition they present with. A session lasts 90 minutes with an hour of this time devoted to the treatment and costs £40
.
Types of Reflexology offered are:
Conventional Reflexology – accredited by the Association of Reflexologists
Precision Reflexology with Linking
Advanced Reflexology
Vertical Reflex Therapy
The Benefits
Reflexology is a very relaxing therapy and a moderate amount of research has been carried out on various conditions. However, it is not permitted to state that Reflexology can cure. It may provide a reduction in stress which may cause an improvement in stress related conditions.
Well-being may be only two feet away!
Anecdotally, Reflexology has helped many individuals and you may wish to read my client testimonials.
My Testimonials…  Read
What is Reflexology?…  More
Organic Shea Butter… Why