Why Organic Shea Butter?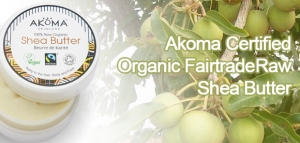 When I trained in Reflexology during 1994-5, trainees had to use cornflour or talcum powder to work on the feet.  These were very drying for both mine and my clients' skin and once I qualified I opted to use Aqueous cream as this product stayed on the skins surface adequately to work on the feet throughout the session.  A few years later, however, I learned that the parabens used as a preservative in Aqueous cream can have a disruptive effect on the body's endocrine system which was not good for me or my clients and I resolved to quickly find an alternative.
It needed to be a product that moisturized the skin effectively whilst at the same time being rich enough to leave a slight residue on the skin during the treatment so that I could carry out the necessary Reflexology techniques without straining either my hands or my clients' skin.  Following some months of experimentation with different raw natural butters and oils from a company in Leeds I came to prefer the texture and richness of organic Shea butter to work with.  Organic Shea butter gets to work deep in the skin and leaves it feeling soft, smooth and refreshed. It is high in vitamin A and E and suits all skin types; additionally Shea butter is also an excellent moisturizer. Apparently it also provides protection from the sun's damaging UV rays.
A search on the internet just before Christmas 2009 brought me to a pleasant, helpful discussion with Akoma Skincare.  I ordered a kilogram of the fair-trade organic Shea butter to try and was blown away with the quality of the product which is incredibly rich and has an amazing clean, sweet aroma quite unlike any others I had tried working with.
Ethically Akoma also tick all the boxes for me too, as the product is fair-trade and organic.  Akoma Certified Raw Shea butter is produced with great care and pride in Ghana by the Akoma Cooperative Multipurpose Society. It has also been certified organic by the Soil Association and certified Fairtrade by the Fairtrade labelling organization (FLO).
Akoma Organic Shea butter is processed from nuts gathered from the karite tree grown in Bolgatanga Upper East Region Ghana, raw Shea butter is often referred to there as karite butter. It is known to be soothing and valued for its therapeutic properties, it helps renew cracked, aged and damaged skin and can help heal bruising and soreness.
Akoma products are all high quality – I also use their organic coconut oil and red palm oil in cooking.  For Akoma Website Link Click Here