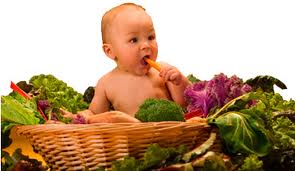 When I began research for my first baby weaning seminar almost twelve years ago, there was a general understanding that the World Health Organisation (WHO) and the Department of Health (DH) recommended that we wait until babies are at least six months old before weaning begins.  However, what surprised me was that at that time I was also training health professionals in Infant Massage and Baby Yoga and none of them were able to say why it was a good idea to wait to wean.
I have been passionate about nutrition since before my children were born and enjoy encouraging individuals and families to make it the building blocks for life so they can enjoy good health.  In my experience the quality of our food literally builds us and fuels our bodies, brains and overall well-being.  With this in mind, it was really important to me to understand what difference it made to our babies bodies to wait to wean.
What I learnt is that the main reason to wait is the overall immaturity of the infant digestive system, this alone is incredibly important.  There are also other organs such as the kidneys whose development benefit from the sole nourishment of ideally breast milk or the best quality replacement available, and our Baby Nourish programme will take you through the reasons to wait.
The choices made for early weaning foods can also be either supportive or more challenging to the young digestive system of your baby.  Baby Nourish looks at where to start and how to carry on, so that step by step your baby has a steady introduction to the new world of taste and texture that will be much more a learning experience than just a meal!
Sign up to receive our blog updates and hear about the programme when it launches

You will receive an email, please click on it to confirm your sign up.